Muktinath: A Must Pilgrimage for every Hindu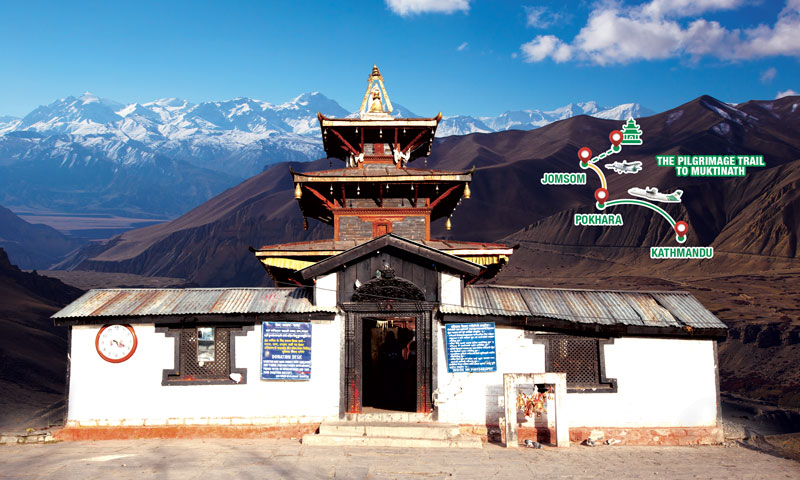 There are certain sacred sites which are as important to Buddhists as they are to Hindus and one of them is the highly revered Muktinath Temple that sits at an altitude of 3,710 meters. At close proximity to the famous Thorang La (a pass in the Himalaya mountain range) Muktinath lies in the district of Mustang where the landscape is arid and a stark contrast to the greenery found in most parts of Nepal. Hindus know this venerated place as the Mukti Kshetra meaning "Place of Liberation or Moksha". It is one of the most ancient temples of Vishnu and the Vaishnavi traditions in Nepal and is also considered one among the eight sacred sites of Hinduism. For Buddhists it is one of the twenty-four tantric sites. Buddhists believe that Guru Rimpoche who introduced Buddhism to Tibet, stopped here at Muktinath to pray to the Dakinis before proceeding on to Tibet. They will even point to footprints left by the great guru.
The temple itself is relatively small and holds a life size statue of the God Vishnu as Shri Mukti Narayana (Narayan is one of the many names Vishnu is known by). There are several other statues of Goddesses and of lesser deities and saints. A Buddhist monk presides here and Buddhist nuns conduct the worshipping ceremonies. What's interesting to see here is the 108 stone water spouts at a height of about seven feet above the ground. They are carved in the shape of a bull's head and some of the ice-cold water from the Kali Gandaki River flows through these spouts. With their astounding zeal for spirituality, pilgrims who arrive from much warmer places from far and wide, stand under these spouts to bathe in the freezing cold waters. In Muktinath Tibetan traders are commonly seen alongside Hindu Sadhus.
In both Hinduism and Buddhism, the number 108 carries great significance and hence the 108 water spouts. The Kali Gandaki River is known for the shaligrams or fossils that are found here. The fossils of this ancient sea creature are required for the establishment of a Vishnu temple. This region was once a sea bed before it rose to this lofty height over millions of years, resulting from the upward thrust of the tectonic plates which created the Himalaya.