Yeti Ko Udan (Viber Sticker)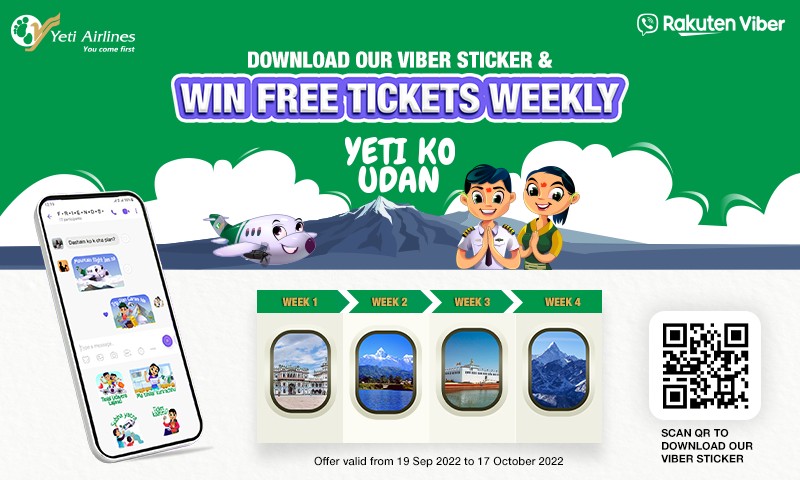 Terms and Conditions for Viber Sticker Download and Win Campaign
Yeti's Viber Sticker Pack "Yeti ko Udan" has officially launched on Viber. Now, you can add more excitement to your conversations with extra fun in this festive season. Also, get a chance to win round trip tickets. Through a lucky draw, we are giving free round trip tickets every week to the winners who download the "Yeti ko Udan" Viber Sticker pack.
1. Participants
In order to participate in the Campaign, you must: (i) be at the age of consent to form a binding agreement in Nepal (or older) and in any case, 16 years old or older, (ii) living at the time of the Campaign in Nepal, (iii) has a valid Viber account during the term of this Campaign.
Participation is forbidden for employees of Yeti Airlines and Viber and the rest of the Rakuten Group and their family members or anyone else connected with setting up or administrating the Campaign.
2. Entries to the Campaign
Entry to the Campaign is free and does not require making any purchase or paying any fee.
In order to enter into the Campaign, please download the 'Yetiko Udan' sticker pack, available for free in the Viber Sticker Market and/or through this https://vb.me/YetiKoUdan (the "Yeti Ko Udan").
Entries (as defined above) to the Campaign will be accepted from September 19, 2022 to October 17, 2022, thereafter no further Entries can be made unless we decide to extend the Campaign.
We assume no responsibility for Entries not received on time or at all for whatever reason, including due to a technical error or malfunction.
3. Prizes
End of each week, Yeti Airlines will randomly select winners from all the Participants that downloaded Yeti Stickers during the week, i.e. September 19, 2022 to October 17, 2022 who will be rewarded with a free round trip ticket.
The First prize will be the free ticket to 'Mountain Flight'; Second Prize will be for 'Ktm-Bhairahawa-Ktm'; Third Prize will be of Ktm-Pokhara-Ktm and Fourth Prize will be of Ktm-Janakpur-Ktm.
No cash alternative to the Prizes will be offered. The Prizes are offered on a 'NO EXCHANGE, NO REFUND', 'Passenger Service Charge (PSC) APPLICABLE' basis and are not transferable. We reserve the right to substitute the Prize with other prizes or prizes of equivalent value without giving prior notice.
4. Winners
Winners will be announced within a week from the end of each week on Yeti Airline's Viber Channel and Facebook Page. If a winner cannot be contacted, is not eligible, or does not claim the Prize within 7 days of notification, we reserve the right to withdraw such Prize from the Winner and pick a replacement Winner instead.
Yeti Airlines' decisions on all matters involving the Campaign will be final.
Disclaimer: These Terms and Conditions govern your participation in the Yeti 'Download and Win' campaign. By participating in the Campaign, you agree to be bound by these Terms, so please read these Terms carefully. If you do not agree to be bound by these Terms, you should refrain from participating in the Campaign.