Your miles count on all fare categories start from this New Year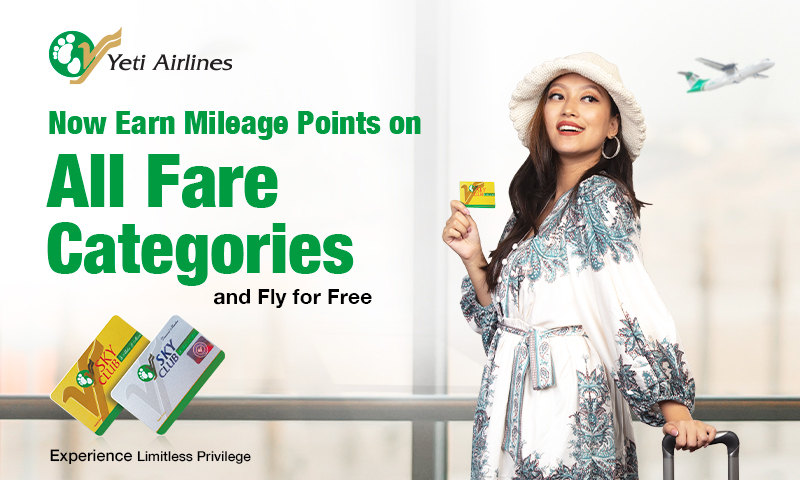 In this "New Year 2080", Yeti Sky Club has an exciting new offer for you. As a Sky Club member, you can earn mileage points on ALL FARES when you travel with Yeti Airlines, even when you fly at the lowest fare, you'll earn mileage points.
You can then redeem these reward points to FLY FOR FREE. You will also enjoy exclusive benefits like priority boarding, extra luggage, access to the CIP lounge at the airport and more. So, hurry up and join our Sky Club today!
https://www.yetiairlines.com/sky-club/registration
OFFER AND TERMS & CONDITIONS
Mileage Point Count: Sky Club members will receive mileage points on Normal, Yellow, Green, Flanker, Sugar, Hotel and Early fare.
Validity of Points:
The validity period of newly introduced Sky Club mileage points is 3 years from the flight date. Validation would be based on the First In & First Out system. For example, 370 points earned on 15th April 2023 and 200 points on 16th May 2023, will expire after 3 years, i.e. 14th April 2028 and 15th May 2028 respectively.
Existing members must redeem their points acquired so far within 3 years, effective from 14 April 2023, otherwise, all due points will be unredeemable or invalid.
Redemption of points: The Sky Club members can redeem their points whenever they wish, after reaching certain points that qualify them to fly for free as mentioned in the table below*. Members must contact us via e-mail (skyclub@yetiairlines.com) or call us at 01-4487020 or 01 4465888 (Extn 142), or visit directly at our Head Office at Tilganga, Kathmandu.
Updated mileage point's chart*, effective from 14th April 2023
For Gold & Kumari Sky Club Members

Sector/Fare

Normal

Yellow

Green

Flanker

Sugar

Hotel

Early

Rewards Points

Nepalgunj

370

260

180

144

120

103

72

3600

Bhadrapur

310

220

150

120

100

86

60

3000

Biratnagar

260

180

125

100

83

71

50

2500

Bhairahawa

210

145

100

80

67

57

40

2000

Janakpur

175

105

70

56

47

-

28

1400

Pokhara

170

115

80

64

53

-

32

1600

Simara

109

70

-

-

-

-

-

960

Mountain Flight

440

-

-

-

-

-

-

4000
For Diamond Member

Sector/Fare

Normal

Yellow

Green

Flanker

Sugar

Hotel

Early

Rewards Points

Nepalgunj

400

300

225

164

138

113

77

3600

Bhadrapur

335

250

188

136

115

94

64

3000

Biratnagar

280

210

156

114

96

78

53

2500

Bhairahawa

225

170

125

91

77

63

43

2000

Janakpur

175

115

88

64

54

44

30

1400

Pokhara

180

135

100

73

62

50

34

1600

Simara

121

80

-

-

-

-

-

960

Mountain Flight

445

-

-

-

-

-

-

4000